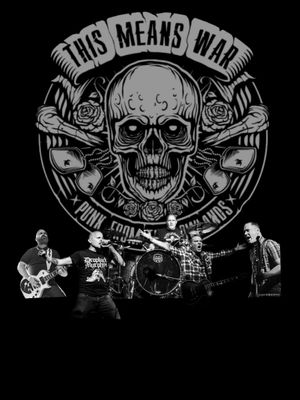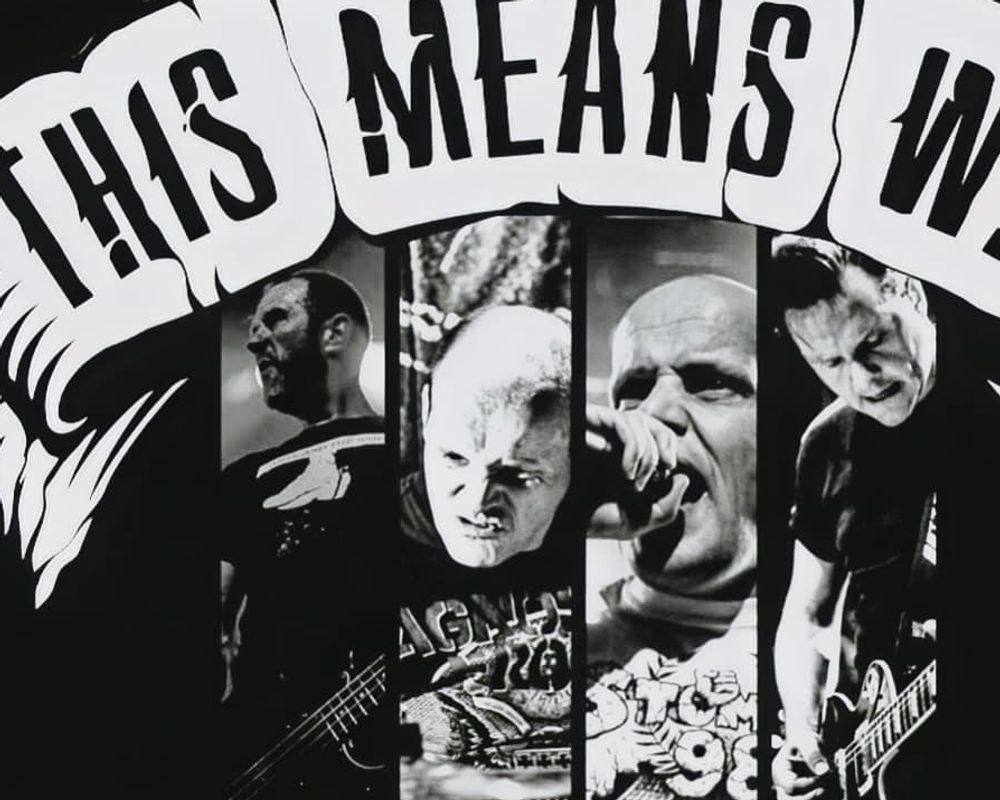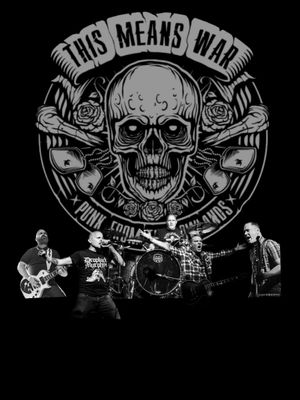 This Means War! 
Band members  
Vocals: Bert   
Guitar: Tom  
Bass: Steve
Drums: Dries
This Means War! … the war on punk! 
While we are all were celebrating  40 years of punk, these guys hooked up to form a brand new band with one common love … punk!  Far from rookies, they played in numerous bands before such as: chon gen, Convict, colors dead bleed and many more.  Now these punks are more determined than ever before to conquer the world with their hard hitting melodic punk rock anthems! 
EP 2017 – Sailing the waves of anarchy 
Hungry like a pack of wolves they started writing together with producer Igor Wouters.  They recorded their first E.P. 'Sailing Anarchy' in the famous ARC studio in Amsterdam.   Jason Maas (Defeater) took it to another level mixing the songs at Getaway studio's in Boston.   Finally the E.P. was mastered at Rogue Planet Mastering.   It didn't take too long before they popped up on Pirate Press Records radar.    Eric Mueller (P.P.R.) jumped aboard and saw the potential of these punks .  When bands like Street Dogs, Cock Sparrer, Old Firm Casuals, Barstool Preachers are on your roster you know this is the real deal.  The release of 'Sailing Anarchy' was met with great reviews worldwide . This Means War! hooked up with Chris Curtis (Green Day and Dropkick Murphy's) for the release of their first two video's (Sailing Anarchy – Use it up).  
LP/CD 2018 – Heartstrings
Since they first set sail This Means War! has had to say farewell to two of their original crew, but that's when Carlo ( Discipline) and Dave (Backfire!, Discipline) joined ship and they kept on sailing nonetheless . Meanwhile they teamed up with Bart Van Lier @High Lake Hill Studio and put 11 punkrock anthems to tape.  What to expect?! … hard hitting melodic punkrock melodies with influences from legends such as Cock Sparrer, the Offspring, Dropkick Murphy's and Street Dogs.  The record got killer reviews from all over the world (see epk section).
This Means War! –  conquering the stage! 
Although only formed in 2017 This Means War! already shared the stage with bands such as Flogging Molly, Dropkick Murphy's, Booze&Glory, Street Dogs, G.B.H., Sham 69 and many more.  They also appeared on festivals such as Sound of Revolution (NL), Punk and Disorderly (GER) and Rebellion (NL).  They were even asked by the legendary cock sparrer to support them on their back to the club tour in 2018.  now covid is getting under control they are back to tour with other uk punk legends ... GBH! this tour starts 17 May and will take them all over europe!
this means war! - 2023 - back with a blast 
Covid has been a real pain in the ass for everybody involved in making live music (artists, venues, bookers, management, record company's, fans, ...) so needless to say it's been hard times for us as well.  we parted ways with jelle, dave and robbie but still love and respect those guys.  we are more than proud that despite all difficulties we have two new pirates aboard our ship.  Tom (ex colors dead bleed - guitar) and steve (ex-chron gen) are our newest band members and let us tell you this is gonna be a blast on stage! In the meanwhile we recorded 5 brand spanking punkrock anthems with filip de bot (penthouse studio) and mixed and mastered these tracks with yarne heylen (carnation - prjocet zero studio).  we are morte than eager to get those tracks out there.  first stop will be the release of a new single 'wake up' on 14th February 2023 on Daccleton Records (GER).   
So lace up your boots, grease up that Mohican and make sure you prepare yourself for the punkrock rage that is coming your way! This Means War will make you ears and heart bleed … bleeding punk!